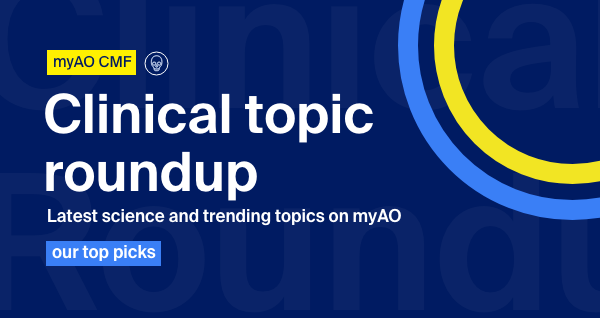 myAO clinical roundup on reconstructive surgery
This month's clinical roundup is focusing on the latest advancements in reconstructive CMF surgery. This issue highlights techniques that reconstruct the bones, muscles, and soft tissues to restore optimal form and function for patients with defects and deformities of the head, face, and neck.
myAO is offering you the following exclusive selection of "knowledge gems" around reconstructive CMF surgery. 
Recommended groups on myAO
AO expert webinars on reconstructive surgery  
Selected AO Surgery reference modules on reconstructive surgery
Recent science on reconstructive surgery
Navigation-assisted maxillofacial reconstruction: accuracy and predictability.
Int J Oral Maxillofac Surg, Nov 30, 2021
Soh HY, Hu LH, Yu Y, Wang T, Zhang WB, Peng X  
Read more
 (
AO member access
)
Bone Graft Substitutes and Enhancement in Craniomaxillofacial Surgery.
Facial Plast Surg, Jul 20, 2023
Applications of three-dimensional imaging techniques in craniomaxillofacial surgery: A literature review.
Upcoming AO events on reconstructive surgery  
AO CMF Seminar—"All about the Mandibular Condyle" Fractures and Reconstruction
AO CMF Symposium—Update in Aesthetic and Reconstructive Facial Surgery. ALACIBU
AO CMF Seminar—Advances in Reconstruction for Paediatric Craniomaxillofacial (CMF) Fracture, Neoplasm and Congenital Anomalies
AO CMF NA Course-Hot Topics in CMF Reconstruction (with HAS)
May 31- June 02, 2024