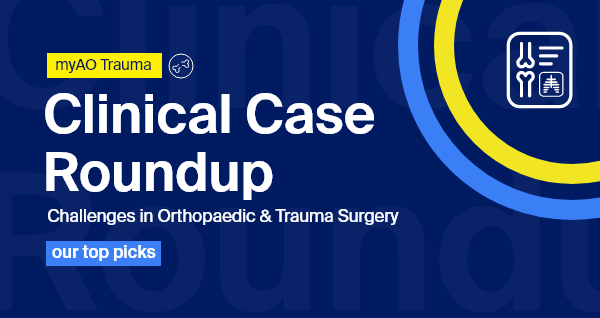 myAO Trauma Clinical Case Roundup on Limb salvage after extensive bone and soft tissue loss 
Limb salvage after extensive bone and soft tissue loss poses significant challenges, including managing infections, ensuring adequate blood supply, achieving bone regeneration, providing soft tissue coverage, maintaining joint functionality, and addressing neurovascular concerns. 
In this month's Trauma Clinical Case Roundup, myAO is featuring the case of a 28-year-old patient who suffered a traumatic loss of 30 cm of the distal femur and proximal tibia due to a blast injury, which was treated with radical debridement, external fixation, conversion to an Ilizarov frame, and various angulation and elongation procedures, resulting in a functional limb salvage with a total of 40 cm elongation.
We invite you to review this interesting clinical case and hope that you will find this knowledge update useful. 
Featured case on Limb salvage after extensive bone and soft tissue loss
Relevant videos on Limb salvage
Related AO Surgery reference modules 
Recommended publications on Limb salvage 
Megaprosthesis in Non-Oncologic Settings-A Systematic Review of the Literature.
J Clin Med, Jun 20, 2023
Sambri A, Parisi SC, Zunarelli R, Di Prinzio L, Morante L, Lonardo G, Bortoli M, Montanari A, De Cristofaro R, Fiore M, De Paolis M 
Limb Salvage Surgery With Mega-Prosthesis in a Case of Chondrosarcoma: A Case Report.
Cureus, Aug 26, 2022
Salwan A, Pisulkar GL, Taywade S, Jadawala VH, Saoji A
Comparing outcomes following direct admission and early transfer to specialized trauma centers in open tibial fracture treatment: a systematic review and meta-analysis.
Eur J Trauma Emerg Surg, Sep 30, 2023
Joosten PGF, Borgdorff MP, Botman M, Bouman MB, van Embden D, Giannakópoulos GF
Upcoming AO events related to Limb salvage
AO Trauma Symposium – Complications in Orthopedics and Traumatology 
AO Trauma Course – Advanced Principles of Fracture Management