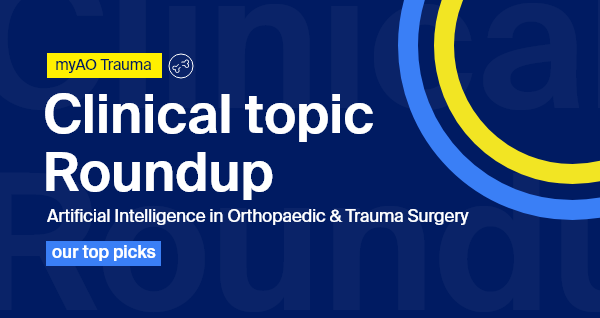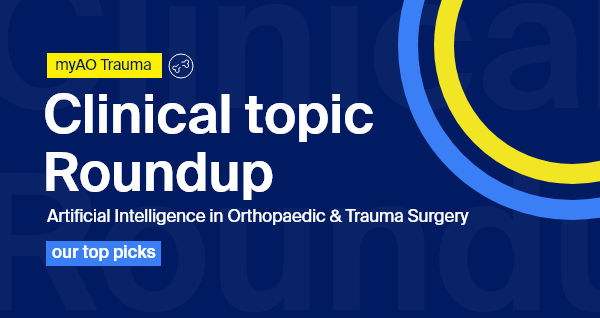 myAO Trauma clinical roundup on Artificial Intelligence in Ortho/Trauma
Delve into the
transformative impact of Artificial Intelligence on orthopedic and trauma surgery
, from advanced medical imaging to promising future applications in joint reconstruction, spine surgery, fracture care, sports medicine, and more.
Discover the cutting-edge synergy between technology and medicine in this month's clinical roundup, as myAO is
offering you the following exclusive selection of "knowledge gems" around the topic.
AI in Trauma Surgery: a live session with Dr. Max Gordon, Ph.D.  
Dr. Guillermo Sánchez Rosenberg
,

the owner of the myAO-myAI group, is hosting a new
AI show
that explores the revolutionary world of artificial intelligence and its transformative impact on the Ortho/Trauma field.
Take a deep dive into the first episode, where
Dr. Max Gordon, Ph.D.
unveils the intersection of AI and orthopedic surgery, offering a glimpse into the future of healthcare.
From the
ethical considerations of robotics in surgeries to the game-changing potential of AI in research and patient communication
, this episode promises insights and revelations that will leave you pondering long after it's over.
Scientific insights on AI in Ortho/Trauma
Artificial intelligence and computer vision in orthopaedic trauma : the why, what, and how.
Bone Joint J, Aug 1, 2022
Prijs J, Liao Z, Ashkani-Esfahani S, Olczak J, Gordon M, Jayakumar P, Jutte PC, Jaarsma RL, IJpma FFA, Doornberg JN, 
Read more
Artificial intelligence in orthopaedics: false hope or not? A narrative review along the line of Gartner's hype cycle
EFORT Open Rev, 2020 Oct 26;5(10):593-603
Jacobien H F Oosterhoff 1 2, Job N Doornberg 1 3; Machine Learning Consortium 
Read more
Artificial intelligence for the classification of fractures around the knee in adults according to the 2018 AO/OTA classification system
PLoS One.
2021 Apr 1;16(4)
Anna Lind,Ehsan Akbarian,Simon Olsson,Hans Nåsell,Olof Sköldenberg,Ali Sharif Razavian,Max Gordon  
Read more
AO Foundation President: Incorporating VR and AR into medical education